Survey Latest
We will be posting updates regarding the survey on this page.  The map below shows the areas being covered, starting with the area in yellow west of Te Awamutu and finishing in the area in blue east of Cambridge.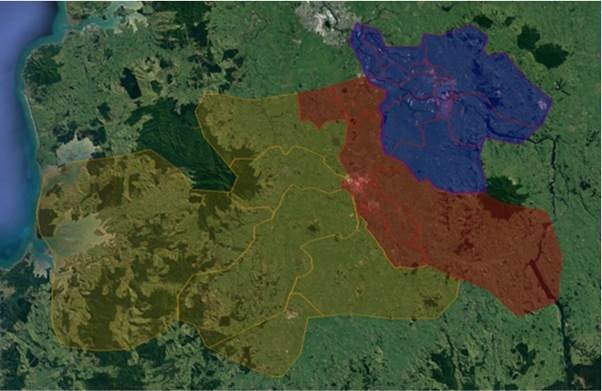 Background
PRESS RELEASE 30 March 2021
WAIPA NETWORKS TO CARRY OUT AERIAL SURVEY OF NETWORK
Local power lines company Waipa Networks will commence an aerial survey of their network in early April. This will involve a helicopter inspecting the top of power poles on the overhead electricity network.
The information gathered will highlight areas needing maintenance or replacement, including any potential safety issues, damaged or aging equipment or trees encroaching on lines.  The aim is to rectify any issues before they cause problems including power outages.
The areas being surveyed are all rural parts of the electricity network beginning west of Te Awamutu through to Kawhia and finishing east of Cambridge.  A map indicating the survey areas is attached. Urban areas including Cambridge, Te Awamutu, Kihikihi, Pirongia and Kawhia townships are not included in the helicopter survey.
Waipa Networks Network Asset Manager Peter Armstrong says the survey work will allow taking a high-resolution image of the top of power poles so thorough assessments can be made of the equipment.
"Waipa Networks provides an essential service to our customers and the use of this technology will allow us to identify potential problems early and help keep the power on".
"As the work involves a low-flying helicopter, we ask that people remain aware when it comes to their animals and livestock, and in particular horses, so they can take appropriate steps if they are likely to be spooked, such as moving them away from paddocks near network power lines or securing them."
The work will begin early April and will run through to mid-May, weather dependent. Waipa Networks will provide up-to-date information on what areas are being surveyed on its webpage waipanetworks.co.nz/aerialsurvey as flight plans are lodged with Civil Aviation. Please note that locations and dates may change due to weather conditions.
Customers and property owners can contact Waipa Networks on 07 872 0745 if they have any concerns or questions about the helicopter survey.
ENDS